objectgraphics/
visgrwindow3d__define.pro
object graphics
includes main-level program
VISgrWindow3D is an object graphics destination for displaying a scene as an anaglyph in an IDLgrWindow.
Examples
The main-level program at the end of this file contains example code using this class. Run it with:
IDL>

.run visgrwindow3d__define
It should display: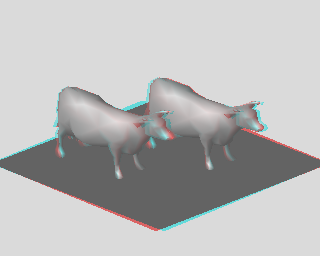 Class description for visgrwindow3d
Inheritance
All ancestor classes: IDLGRWINDOW IDLGRSRCDEST IDLITCOMPONENT
Properties
_extra

set init type=keywords

properties of IDLgrWindow

eye_separation

get set init type=float

number of degrees of the cone formed by drawing lines from each eye to the origin of the view

dimensions

set init type=intarr(2)

dimensions of the window

_ref_extra

get

color

get set init type=boolean

set to produce color anaglyphs
Routines
Get properties of the VISgrWindow3D.

Set properties of the VISgrWindow3D.

Draw the picture in 3D.

Free resources.

Initialize Window3D object.

Destination for object graphics that automatically creates a 3d anaglyph appropriate to view with red-blue glasses.
Routine details
File attributes
| | |
| --- | --- |
| Modification date: | Mon Nov 29 18:32:37 2010 |
| Lines: | 208 |
| Docformat: | rst rst |